How To Deal With Dental Anxiety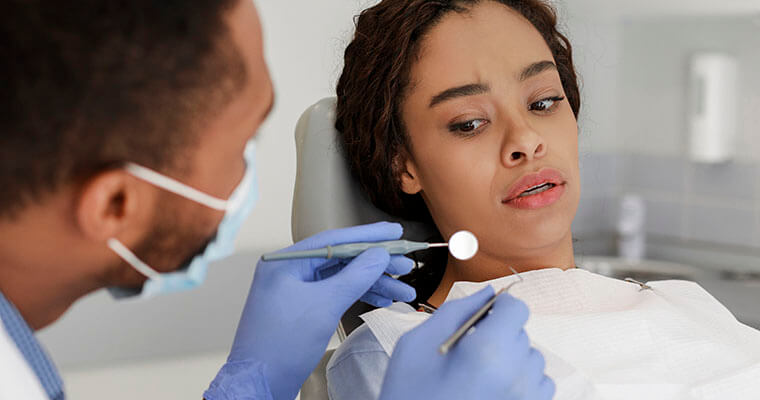 If you're someone who experiences anxiety at the thought of going to the dentist, you're not alone.
Dental anxiety is a common issue preventing people from getting the dental care they need. The Journal of Dental Hygiene reports that anywhere between 50 and 80% of adults in the United States have some degree of dental anxiety.
Luckily, most dentists are very familiar with dental fear and work to provide the most calming environment and safe options for patients.
However, it's important to remember that ignoring your dental health can lead to more severe problems.
In this blog, we'll cover
By understanding your options and taking steps to manage your anxiety, you can get the care you need and improve your overall health.
The causes of dental anxiety and how to identify them
Fear of pain: many people associate dental visits with pain, and this can lead to anxiety
Past negative experiences at the dentist: If a person has had a bad experience before, it's likely to cause stress in future visits
Difficulty with needles or shots: Many people fear needles and injections. This makes certain dental procedures scary
Gagging or difficulty with mouth instruments: Being embarrassed or nervous about having difficulty with a dental procedure can trigger anxiety.
Fear of the unknown or loss of control: Sitting in a dental chair can make people feel vulnerable or out of control.
Dental anxiety can stem from various factors, and understanding the root causes of it will help determine the most effective approach to managing it. If you find yourself doing the following, you might have dental anxiety.
Avoiding dental visits
Experiencing physical systems such as sweating, shaking, or a racing heartbeat
Panic Attacks
Extreme nervousness
Techniques for managing and reducing dental anxiety
Deep breathing and relaxation techniques
Visualization and guided imagery
Progressive muscle relaxation
Music or other distractions
Talking to a trusted friend or loved one
Several techniques can help you manage and reduce dental anxiety, and experimenting with different approaches can help you find what works best.
The benefits of addressing dental anxiety
Improved oral health
Avoidance of dental emergencies
Increased self-confidence
Overall improvement in physical health
Addressing dental anxiety can have several benefits leading to an overall improvement in physical health.
Don't let dental anxiety keep you from getting the care you need. Call today.
Options for sedation dentistry
Nitrous oxide (laughing gas)
Oral sedation
IV sedation
General anesthesia
Discussing the pros and cons of each option with your dental professional can help determine the best choice for you.
Sedation dentistry is a method of relaxing patients and making them more comfortable during dental procedures.
There are several options for sedation dentistry, including:
Nitrous oxide
Also known as 'laughing gas,' it is a gas that is inhaled through a mask placed over the nose. It can help patients feel more relaxed and make the procedure seem to go by more quickly.
Oral sedation
It involves taking a pill before the procedure, helping the patient feel relaxed and drowsy.
IV sedation
It is administered through a vein and can be adjusted to different levels of sedation. It works very quickly and can be easily reversed if needed.
General anesthesia
It is administered through an IV and puts the patient to sleep during the procedure. It is typically used for more complex procedures or patients with high anxiety levels.
Discussing the best option for sedation dentistry with your dentist is important, as the appropriate choice will depend on the procedure being performed, the patient's medical history, and the patient's level of anxiety.
A final thought
It's important to remember that you are not alone in experiencing dental anxiety.
Many people struggle with it, and there are effective ways to manage and reduce it.
Working with our professionals here at Virginia Dental Solutions, who understand and support you, can also make a big difference in helping you feel more comfortable and at ease during dental appointments.
Don't let dental anxiety keep you from getting the care you need. Call us today.
Or reach us by:
Our offices are located in Reston… opens in a new window to Google Maps… and Ashburn, VA… opens in a new window to Google Maps…, serving the surrounding communities of Herndon, Great Falls, Vienna, Chantilly, Fairfax, Falls Church, Annandale, Burke, Brambleton, Landsdowne, Leesburg, Purcellville, Hamilton, Round Hill, Aldie, Centreville, McLean, Broadlands, and Sterling.