What Is Family Dentistry?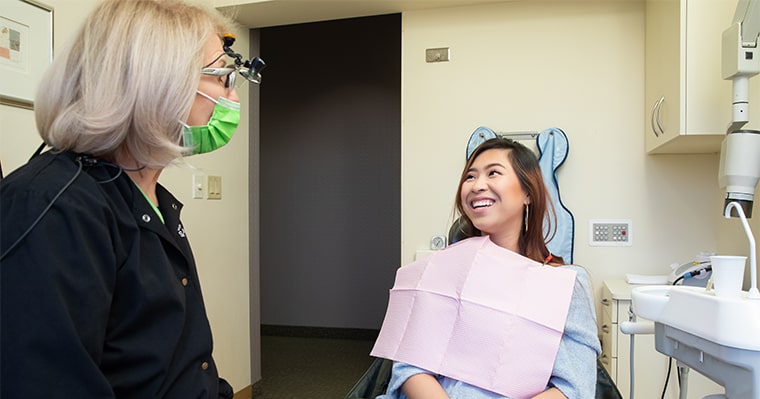 The quick answer:
Family dentistry helps patients of all ages maintain, improve, and restore the health of their teeth and gums for a happy, healthy smile. The best part is there are many dental services under one roof for your convenience.
Let's face it:
Life is hectic enough. Going to the dentist for your family's many dental needs shouldn't be complicated
Let's cue in the superhero family dentist.
Ok, maybe your dentist isn't a superhero, but anyone who makes life just a little easier for busy families may seem like it sometimes.
So what exactly does a family dentist do?
Read on to find out.
What is family dentistry? (the longer answer)
Family dentistry includes many dental treatments for you and your loved ones.
It can be as simple as:
Scheduled cleanings
Exams
Follow-up treatments
Or more complex procedures like:
Root canal therapy
Oral sleeping devices for sleep apnea
TMJ (temporomandibular joint) disorder treatments
Or more
Many family dentists offer treatments for sleep apnea and TMJ disorders. But there might be quite a bit you don't realize about your family dentist.
First:
There's a wide range of treatments available in family dentistry, but the goal is always the same.
The goal is to help you and your loved ones reach optimal oral health!
While we don't doubt you're a great brusher and flosser, everyone has those hard-to-reach spots that need help from a professional cleaning. Also, we can't stress how important dental exams and oral cancer screenings are.
Second:
Family dentistry saves you time and money.
When oral health is properly maintained and problems are caught early on, it's possible to fix the issue before it gets out of hand. We may even help save a tooth with a root canal or replace a missing tooth with natural-looking dental implants.
Last but not least:
Your family dentist makes sure your entire family feels comfortable.
From the moment you call in for an appointment, your family dentist works closely with you to arrange an appointment around your busy schedule. Instead of making separate trips for multiple family members, your dentist may even be able to get you in on the same day.
Additionally, family dentists don't judge – they're on your team and rooting for your best dental health! (Dare we say it? They're practically part of your family)
It's true.
Ideally, your family dentist works with you for many years because excellent oral health is made of a lifetime of great habits, including visiting the dentist at least twice a year.
Your family dentist gets to know you and your family, and through the years, makes treatments a seamless process with so many services available under close supervision and genuine care.
Needless to say, your visit to the dentist should always be a friendly and pleasant experience, and we do exactly that.
Looking for family dentistry in Reston or Ashburn, VA?
Say "goodbye" to dental anxiety and "hello" to anxiety-free dentistry with a family dentist you can trust for the whole gang.
From young kids to teens and adults, our team at Virginia Dental Solutions is here to help with all of your dental needs.
Our services include:
Comprehensive exams and cleanings
Dental sealants
Metal-free fillings
Mouthguards and nightguards
Periodontal therapy
And many other cosmetic and restorative procedures under one roof
Contact us today:
You can visit us either in Reston… opens in a new window to Google Maps… or Ashburn, VA… opens in a new window to Google Maps…, and we look forward to meeting you and your family.